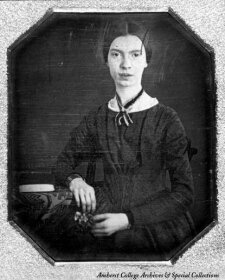 Daguerreotype of Emily Dickinson
Emily Dickinson Bibliography
(c) Copyright by Connie Ann Kirk. All rights reserved.

A writer's bibliography about any subject is constantly evolving and adapting. In my work on the poet, I have, at one time or another, found the sources below either of passing interest or of lasting value to my own writing about the poet's life and work (or perhaps about a related topic in poetry or the 19th century, etc.). The bibliography is eclectic to my own travels among the many shelves of Dickinson-related publications. Your Dickinson bibliography may differ greatly from this one! For more details you can reach order-essays.com.

Another advantage of glancing through bibliographies in the backs of books or other places is that it can give you ideas of what to write about. You can see what's been done, and sometimes that triggers ideas about what has not been done.

This bibliography is by no means a complete listing of all the material written about Emily Dickinson. Students should remember that there are many other resources besides these available. Perhaps this listing, however, will give students a start in locating resources. It may also provide Dickinson scholars with a handy online listing of some of the resources they use frequently. Readers looking for other books to read about the poet will find a rich deposit of them here.

Enjoy your reading and research!


Emily Dickinson Bibliography
A
B
C
D
E
F
G
H
I
J
K
L
M
N
O
P
Q
R
S
T
U
V
W
X-Y-Z




Emily Dickinson Bibliography
A
Abbott, John S. C. THE MOTHER AT HOME, OR THE PRINCIPLES OF MATERNAL DUTY FAMILIARLY ILLUSTRATED. Worcester, MA: Calvinist Church publication, 1833.

Ackmann, Martha. "The Matrilineage of Emily Dickinson." Diss., University of Massachusetts, 1988.

Agrawal, Abha. EMILY DICKINSON, SEARCH FOR SELF. New Delhi: Young Asia Publications, 1977.

Alfrey, Shawn. THE SUBLIME OF INTENSE SOCIABILITY: EMILY DICKINSON, H. D., AND GERTRUDE STEIN. Lewisburg, PA: Bucknell University Press, 2000.

Anderson, Charles R. EMILY DICKINSON'S POETRY: STAIRWAY OF SURPRISE. New York: Hold, Rinehart and Winston, 1960.

BACK TO LIST

B
Barker, Wendy. LUNACY OF LIGHT: EMILY DICKINSON AND THE EXPERIENCE OF METAPHOR. Carbondale and Edwardsville: Southern Illinois University Press, 1987.

Benfy, Christopher. "A Lost World Brought to Light," in THE DICKINSONS OF AMHERST, photographs by Jerome Liebling, Hanover, NH: University Press of New England, 2001.

-----. "'Best Grief is Tongueless': Jerome Liebling's Spirit Photographs," in THE DICKINSONS OF AMHERST, photographs by Jerome Liebling, Hanover, NH: University Press of New England, 2001.

-----. EMILY DICKINSON: LIVES OF A POET. New York: Braziller, 1986.

-----. EMILY DICKINSON AND THE PROBLEM OF OTHERS. Amherst: University of Massachusetts Press, 1984.

-----. MY LIFE, A LOADED GUN: FEMALE CREATIVITY AND FEMINIST POETICS. Boston: Beacon Press, 1986.

Bennett, Paula. EMILY DICKINSON: WOMAN POET. Iowa City: University of Iowa Press, 1990.

Bernhard, Mary Elizabeth Kromer. "Lost and Found: Emily Dickinson's Daguerreotypist," NEW ENGLAND QUARTERLY 72 (Dec. 1999) 594-601.

-----. "Mary Landis Hampson: Guardian of the Dickinson Universe," EMILY DICKINSON JOURNAL, Vol. VIII, No. 1, (1999): p. 24--35.

-----. "Portrait of a Family: Emily Dickinson's Norcross Connection." NEW ENGLAND QUARTERLY 60 (1987): 363-81.

Bianchi, Martha Gilbert Dickinson. EMILY DICKINSON FACE TO FACE: UNPUBLISHED LETTERS WITH NOTES AND REMINISCENCES BY HER NIECE. Boston: Houghton Mifflin, 1932.

-----. THE LIFE AND LETTERS OF EMILY DICKINSON. Boston: Houghton Mifflin, 1924.

-----. "Recollections of a Country Girl." Unpublished manuscript. Martha Dickinson Bianchi Collection, Brown University.

Bingham, Millicent Todd. Ed. EMILY DICKINSON: A REVELATION. New York: Harper & Brothers, 1954.

-----. EMILY DICKINSON'S HOME: LETTERS OF EDWARD DICKINSON AND HIS FAMILY. New York: Harper & Brothers, 1955.

Blake, Caesar R. and Carlton F. Wells, eds. THE RECOGNITION OF EMILY DICKINSON: SELECTED CRITICISM SINCE 1890. Ann Arbor: University of Michigan Press, 1964.

Bloom, Harold, ed. EMILY DICKINSON: MODERN CRITICAL VIEWS. New York: Chelsea House, 1985.

-----. ed. EMILY DICKINSON. Bloom's Bio. Critiques Series. New York: Chelsea House Publishing, 2002.

Boswell, Jeanetta. EMILY DICKINSON: A BIBLIOGRAPHY OF SECONDARY SOURCES, WITH SELECTIVE ANNOTATIONS, 1890 THROUGH 1987. Jefferson, NC: McFarland, 1989.

Brantley, Richard E. EXPERIENCE AND FAITH: THE LATE-ROMANTIC IMAGINATION OF EMILY DICKINSON. New York: Palgrave Macmillan, 2004.

Brose, Nancy Harris, Juliana McGovern Dupre, Wendy Tocher Kohler, and Jean McClure Mudge. EMILY DICKINSON: PROFILE OF THE POET AS COOK. Amherst, MA: Hamilton Newall, 1976.

Buckingham, J. T. & E. Publishers. Review. "THE MOTHER AT HOME, OR THE PRINCIPLES OF MATERNAL DUTY FAMILIARLY ILLUSTRATED by John S. C. Abbott." THE NEW-ENGLAND MAGAZINE, Vol. 5, Issue 1 (July, 1833): 68-70. Available online, Cornell University, Making of America: http://cdl.library.cornell.edu/cgi-bin/moa/sgml/moa-idx?notisid=ABS8100-0005-20. Accessed 7 August 2003.

Buckingham, Willis J. EMILY DICKINSON: AN ANNOTATED BIBLIOGRAPHY: WRITINGS, SCHOLARSHIP, CRITICISM, AND ANA, 1850-1968. Bloomington, IN: Indiana University Press, 1970.

-----. EMILY DICKINSON'S RECEPTION IN THE 1890S: A DOCUMENTARY HISTORY. University of Pittsburgh Press, 1989.
Budick, E. Miller. EMILY DICKINSON AND THE LIFE OF LANGUAGE: A STUDY IN SYMBOLIC POETICS. Baton Rouge: Louisiana State University Press, 1985.

Buell, Lawrence. NEW ENGLAND LITERARY CULTURE: FROM REVOLUTION THROUGH RENAISSANCE. London: Cambridge University Press, 1986.

Burr, Zofia A. OF WOMEN, POETRY, AND POWER: STRATEGIES OF ADDRESS IN DICKINSON, MILES, BROOKS, LORDE, AND ANGELOU. Chicago: University of Illinois Press, 2002.

BACK TO LIST

C
Cady, Edwin H. and Louis J. Budd, eds. ON DICKINSON: THE BEST FROM AMERICAN LITERATURE. Durham: Duke University Press, 1990.

Cameron, Sharon. CHOOSING NOT CHOOSING: DICKINSON'S FASCICLES. Chicago: University of Chicago Press, 1992.

-----. LYRIC TIME: DICKINSON AND TH LIMITS OF GENRE. Baltimore: Johns Hopkins University Press, 1979.

Capps, Jack L. EMILY DICKINSON'S READING, 1836—1886. Cambridge, MA: Harvard University Press, 1966.

Carton, Evan. THE RHETORIC OF AMERICAN ROMANCE: DIALECTIC AND IDENTITY IN EMERSON, DICKINSON, POE, AND HAWTHORNE. Baltimore: Johns Hopkins University Press, 1985.

Chesnokova, Anna. "Emily Dickinson in Ukrainian Literary Studies," EMILY DICKINSON INTERNATIONAL SOCIETY BULLETIN. Vol. 13, No. 1 (May/June, 2001) p. 23.

Child, Lydia Maria. THE AMERICAN FRUGAL HOUSEWIFE. Boston: Roberts Bros., 1830.

Clendenning, Sheila T. ed. EMILY DICKINSON, A BIBLIOGRAPHY, 1850-1967. Kent, OH: Kent State University Press, 1968.

Cody, John. AFTER GREAT PAIN: THE INNER LIFE OF EMILY DICKINSON. Cambridge, MA: Harvard University Press, 1971.

Coghill, Sheila and Thom Tammaro eds. VISITING EMILY: POEMS INSPIRED BY THE LIFE & WORK OF EMILY DICKINSON. Iowa City, IA: University of Iowa Press, 2001.

Conrad, Angela. THE WAYWARD NUN OF AMHERST: EMILY DICKINSON IN THE MEDIEVAL WOMEN'S VISIONARY TRADITION. New York: Garland Publishing, 2000.

Cooley, Carolyn Lindley. THE MUSIC OF EMILY DICKINSON'S POEMS AND LETTERS: A STUDY OF IMAGERY AND FORM. Jefferson, NC: McFarland & Co., 2003.

Crumbley, Paul. INFLECTIONS OF THE PEN: DASH AND VOICE IN EMILY DICKINSON. Lexington: University Press of Kentucky, 1997.


BACK TO LIST

D
Dandurand, Karen. "Another Dickinson Poem Published in Her Lifetime," AMERICAN LITERATURE 54 (1982): 434-37.

-----. DICKINSON SCHOLARSHIP: AN ANNOTATED BIBLIOGRAPHY, 1969—1985. New York: Garland Publishing, 1988.

-----. "New Dickinson Civil War Publications." AMERICAN LITERATURE 56 (1984): 17-27.

-----. "Why Dickinson Did Not Publish." Diss., University of Massachusetts, 1984.

Danly, Susan. LANGUAGE AS OBJECT: EMILY DICKINSON AND CONTEMPORARY ART. Amherst: University of Massachusetts Press, 1997.

Davis, Thomas M. FOURTEEN BY EMILY DICKINSON, WITH SELECTED CRITICISM. Chicago: Scott, Foresman, 1964.
"Death of a Promising Boy," AMHERST RECORD, October 17, 1883.

Deppman, Jed. "Dickinson, Death, and the Sublime," EMILY DICKINSON JOURNAL. 9.1 (2000): 1-20.

-----. "'I Could Not Have Defined the Change': Rereading the Definition Poems," EMILY DICKINSON JOURNAL 11.1 (2002): 49-80.

Dickie, Margaret. "Dickinson in Context." AMERICAN LITERARY HISTORY 7 (1995): 320-33.

-----. LYRIC CONTINGENCIES: EMILY DICKINSON AND WALLACE STEVENS. Philadelphia: University of Pennsylvania Press, 1991.

Dickenson, Donna. EMILY DICKINSON. Leamington Spa: Berg, 1985.

Dickinson, Cynthia. "The New White Dress," EMILY DICKINSON INTERNATIONAL SOCIETY BULLETIN Vol. 12, No. 1, (May/June, 2000): p. 10-13.

Dickinson, Emily. BOLTS OF MELODY: NEW POEMS BY EMILY DICKINSON. Ed. Mabel Loomis Todd and Millicent Todd Bingham. New York: Harper and Brothers, 1945.

-----. THE COMPLETE POEMS OF EMILY DICKINSON. Ed. Martha Dickinson Bianchi. Boston: Little, Brown, 1924.

-----. THE COMPLETE POEMS OF EMILY DICKINSON. Ed. Thomas H. Johnson. Boston: Little, Brown, 1960.

-----. THE DICKINSON ELECTRONIC ARCHIVE Ed. Martha Nell Smith,

-----. EMILY DICKINSON'S LETTERS TO DR. AND MRS. JOSIAH GLIBERT HOLLAND. Ed. Theodora Van Wagenen Ward. Cambridge: Harvard University Press, 1951.

-----. EMILY DICKINSON'S SELECTED LETTERS. Ed. Thomas H. Johnson. Cambridge: Harvard University Press, Belknap Press, 1986.

-----. FINAL HARVEST: EMILY DICKINSON'S POEMS. Ed. Thomas H. Johnson. Boston: Little, Brown, 1961.

-----. FURTHER POEMS OF EMILY DICKINSON, WITHHELD FROM PUBLICATION BY HER SISTER LAVINIA. Ed. Martha Dickinson Bianchi and Alfred Leete Hampson. Boston: Little, Brown, 1929.

----- A LETTER. Amherst, MA: Friends of Amherst College Library, 1992.

-----. LETTERS OF EMILY DICKINSON. Ed. Mabel Loomis Todd. 2 vols. Boston: Roberts Brothers, 1894.

-----. LETTERS OF EMILY DICKINSON. Ed. Mabel Loomis Todd. New York: Harper and Brothers, 1931.

-----. THE LETTERS OF EMILY DICKINSON. Ed. Thomas H. Johnson and Theodora Ward. 3 vols. Cambridge: Harvard University Press, Belknap Press, 1958.

-----. THE MANUSCRIPT BOOKS OF EMILY DICKINSON: A FACSIMILE. Ed. R. W. Franklin, 2 vols. Cambridge: Harvard University Press, Belknap Press, 1981.

-----. THE MASTER LETTERS OF EMILY DICKINSON. Ed. R. W. Franklin. Amherst, MA: Amherst College Press, 1986.

-----. NEW POEMS OF EMILY DICKINSON. Ed. William H. Shurr, with Anna Dunlap and Emily Grey Shurr. Chapel Hill: University of North Carolina Press, 1983.

-----. OPEN ME CAREFULLY: EMILY DICKINSON'S INTIMATE LETTERS TO SUSAN HUNTINGTON DICKINSON. Ed. Ellen Louise Hart and Martha Nell Smith. Ashfield, MA: Paris Press, 1998.

-----. POEMS BY EMILY DICKINSON. Ed. Mabel Loomis Todd and T. W. Higginson. Boston: Roberts Brothers, 1890.

-----. POEMS BY EMILY DICKINSON: SECOND SERIES. Ed. T. W. Higginson and Mabel Loomis Todd. Boston: Roberts Brothers, 1891.

-----. POEMS BY EMILY DICKINSON: THIRD SERIES. Ed. Mabel Loomis Todd. Boston: Roberts Brothers, 1896.

-----. POEMS BY EMILY DICKINSON. Ed. Martha Dickinson Bianchi and Alfred Leete Hampson. Boston: Little, Brown, 1937.

-----. THE POEMS OF EMILY DICKINSON: CENTENARY EDITION. Ed. Martha Dickinson Bianchi and Alfred Leete Hampson. Boston: Little, Brown, 1930.

-----. POEMS OF EMILY DICKINSON, VARIORUM EDITION. 3 vols. Ed. R. W. Franklin. Cambridge, MA: The Belknap Press of Harvard University Press, 1998.

-----. POEMS FOR YOUTH. Ed. Alfred Leete Hampson. Boston: Little, Brown, 1934.

-----. THE POEMS OF EMILY DICKINSON: READING EDITION. Ed. R. W. Franklin. Cambridge: Harvard University Press, Belknap Press, 1999.

-----. THE POEMS OF EMILY DICKINSON INCLUDING VARIANT READINGS CRITICALLY CO MPARTED WITH ALL KNOWN MANUSCRIPTS. Ed. Thomas H. Johnson. 3 vols. Cambridge: Harvard University Press, Belknap Press, 1955.

-----. THE SELECTED POEMS OF EMILY DICKINSON. Ed. Billy Collins. New York: Random House, Inc., 2004.

-----. THE SINGLE HOUND: POEMS OF A LIFETIME. Ed. Martha Dickinson Bianchi. Boston: Little, Brown, 1914.

-----. UNPUBLISHED POEMS OF EMILY DICKINSON. Ed. Martha Dickinson Bianchi and Alfred Leete Hampson. Boston: Little, Brown, 1935.

Dickinson, Susan. "Annals of the Evergreens." In Martha Nell Smith et. al., eds. "Writings by Susan Dickinson." DICKINSON ELECTRONIC ARCHIVES. Available online: http://www.iath.virginia.edu/dickinson/susan/tannals.html

-----. "A Memoir of Dr. Elizabeth Blackwell." Martha Nell Smith et. al., eds. "Writings by Susan Dickinson." DICKINSON ELECTRONIC ARCHIVES. Available: http://www.emilydickinson.org

Diehl, Joanne Feit. DICKINSON AND THE ROMANTIC IMAGINATION. Princeton: Princeton University Press, 1981.

-----. WOMEN POETS AND THE AMERICAN SUBLIME. Bloomington: Indiana University Press, 1990.

Dobson, Joanne. DICKINSON AND THE STRAGEIES OF RETICENCE: THE WOMAN WRITER IN NINETEENTH-CENTURY AMERICA. Bloomington: Indiana University Press, 1989.

Dommermuth-Costa, Carol. EMILY DICKINSON: SINGULAR POET. Minneapolis, MN: Lerner Publications Co., 1998.

Doriani, Beth Maclay. EMILY DICKINSON: DAUGHTER OF PROPHECY. Amherst: University of Massachusetts Press, 1996.

Duchac, Joseph. THE POEMS OF EMILY DICKINSON: AN ANNOTATED GUIDE TO COMMENTARY. Boston: G. K. Hall, 1979.

BACK TO LIST

E
Eberwein, Jane Donahue, DICKINSON: STRATEGIES OF LIMITATION. Amherst: University of Massachusetts Press, 1985.

-----. "Dickinson's Local, Global, and Cosmic Perspectives." In THE EMILY DICKINSON HANDBOOK. Roland Hagenbüchle, Cristanne Miller, and Gudrun Grabher, eds. Amherst: University of Massachusetts Press, 1998.

-----. "Emily Dickinson and the Calvinist Sacramental Tradition." ESQ: A JOURNAL OF THE AMERICAN RENAISSANCE 34 (1987), 67-81. Repr. EMILY DICKINSON: A COLLECTION OF CRITICAL ESSAYS. Ed. Judith Farr (Prentice Hall, 1995).

------. Ed. AN EMILY DICKINSON ENCYCLOPEDIA. Westport, CT: Greenwood Press, 1998.

-----. "'Graphicer for Grace': Emily Dickinson's Calvinist Language." STUDIES IN PURITAN AMERICAN SPIRITUALITY 1 (1990): 170-201.

-----. "Introducing a Religious Poet: The 1890 POEMS BY EMILY DICKINSON." CHRISTIANITY AND LITERATURE 39 (1990):241-6.

Emerson, Ralph Waldo. "New Poetry," THE DIAL 1 (Oct., 1840): 221-32.

-----. "Thoughts on Modern Literature," THE DIAL 1.2 (Oct. 1840): 137-58."

Emily Dickinson International Society (EDIS) Papers, Emily Dickinson Collection, Jones Library, Amherst, MA

Erkkila, Betsy. THE WICKED SISTERS: WOMEN POETS, LITERARY HISTORY, AND DISCORD. New York: Oxford University Press, 1992.

-----. THE PASSION OF EMILY DICKINSON. Cambridge, MA: Harvard University Press, 1992.

BACK TO LIST

F
Farr, Judith, ed. EMILY DICKINSON: A COLLECTION OF CRITICAL ESSAYS. Upper Saddle River, NJ: Prentice-Hall, 1996.

Farr, Judith with Louise Carter. THE GARDENS OF EMILY DICKINSON. Cambridge: Harvard University Press, 2004.

Fast, Robin Riley, and Christine Mack Gordon, eds. APPROACHES TO TEACHING DICKINSON'S POETRY. New York: MLA, 1989.

Ferlazzo, Paul J., ed. CRITICAL ESSAYS ON EMILY DICKINSON. Boston, MA: G. K. Hall, 1984.

-----. EMILY DICKINSON. Boston: Twayne, 1976.

Ford, Thomas W. HEAVEN BEGUILES THE TIRED: DEATH IN TH EPOETRY OF EMILY DICKINSON. Tuscaloosa: University of Alabama Press, 1966.

Franklin, Ralph W. THE EDITING OF EMILY DICKINSON: A RECONSIDERATION. Madison: Univerity of Wisconsin Press, 1967.

Freeman, Margaret H. "Another Way to See: Emily Dickinson's Cognitive Power." THOUGHTS, Department of English, Chulalangonkorn University, Bangkok, Thailand, (1998) 19¬27.

-----. "The Body in the Word: A Cognitive Approach to the Shape of a Poetic Text." In COGNITIVE STYLISTICS: LANGUAGE AND COGNITION IN TEXT ANALYSIS. Elena Semino and Jonathan Culpeper, eds. Amsterdam and Philadelphia: John Benjamins Publishing Company, 2002.

-----. "Carlo," in Jane Donahue Eberwein, ed. AN EMILY DICKINSON ENCYCLOPEDIA. Westport, CT: Greenwood Press, 1998.

-----. "Cognitive Linguistic Approaches to Literary Studies: State of the Art in
Cognitive Poetics." In THE OXFORD HANDBOOK OF COGNITIVE LINGUISTICS, 1821-1866. Dirk Geeraerts and Hubert Cuyckens, eds. Oxford: Oxford University Press, 2007.

-----. "Cognitive Mapping in Literary Analysis." STYLE 36:3 (2002) 466-83.

-----. "Emily Dickinson: Profile, Letters, and Poetry" Entries (2005). THE LITERARY ENCYCLOPEDIA. Online resource: http://www.litencyc.com

-----. "Emily Dickinson's Double Language: An Introduction to the Writings of Hans W. Luescher." With Rolf Amsler. In EMILY DICKINSON AT HOME. Gudrun M.Grabher and Martina Antretter, eds. Trier: Wissenschaftlicher Verlag Trier, 2001.

-----. "The Fall of the Wall between Literary Studies and Linguistics: Cognitive Poetics." In APPLICATIONS OF COGNITIVE LINGUISTICS: FOUNDATIONS AND FIELDS OF APPLICATION, 403-428.Gitte Kristiansen, Michel Achard, René Dirven, and Francisco Ruiz de Mendoza, eds., Berlin: Mouton de Gruyter, 2007.

-----. "Grounded Spaces in the Poetry of Emily Dickinson," in Paul Simpson, ed. STYLISTICS. New York: Routledge, 2004.

-----. "Grounded Spaces: Deictic-Self Anaphors in the Poetry of Emily Dickinson." LANGUAGE AND LITERATURE 6:1 (1997) 7¬28.

-----. "Metaphor Making Meaning: Dickinson's Conceptual Universe." JOURNAL OF PRAGMATAICS 24.6 (1995) 643-666.

-----. "Metaphors of Mind: Analogical Mapping in Teaching Poetry." THE PEDAGOGICAL QUARTERLY OF COGNITIVE LINGUISTICS 1:1 (1998) http://pqcl.indstate.edu/

-----. "Momentary Stays, Exploding Forces: A Cognitive Linguistic Approach to the Poetics of Emily Dickinson and Robert Frost." JOURNAL OF ENGLISH LINGUISTICS 30:1 (2002) 73-90.

-----. "'Of Silence - Denote¬': The Intimacy of Dickinson's Spaces." THE SEMANTICS OF SILENCES. Gudrun M. Grabher and Ulrike Jeßner, eds. Heidelberg: Universitätsverlag C. Winter, 1996.

-----. "Poetic Iconicity." In COGNITION IN LANGUAGE: VOLUME IN HONOUR OF PROFESSOR ELZBIETA TABAKOWSKA, Elzbieta Tabakowska, 472-501. Wladyslaw Chlopicki, Andrzej Pawelec and Agnieszka Pokojska, eds. ANNUAL REVIEW OF COGNITIVE LINGUISTICS. Kraków: Tertium, 2007.

-----. "Poetry and the Scope of Metaphor: Toward a Cognitive Theory of Literature." In METAPHOR AND METONYMY AT THE CROSSROADS. Antonio Barcelona, ed. Berlin and New York: Mouton de Gruyter (2000) 253-81. [includes cognitive analyses of several Dickinson poems, together with discussion of the Hoffmann forgery.]

-----. "Poetry as Power: The Dynamics of Cognitive Poetics as a Scientific and Literary Paradigm." In COGNITION AND LITERARY INTERPRETATION IN PRACTICE. Harry Veivo, ed. 2004. [includes cognitive poetics analyses of several Dickinson poems].

-----. "Tropes and Figures: Troping as Poetic Strategy." In THE EMILY DICKINSON HANDBOOK. Gudrun M. Grabher, Roland Hagenbüchle, and Cristanne Miller, eds. Amherst: University of Massachusetts Press, 1998.

Freeman, Margaret H., Gudrun Grabher, and Roland Hogenbűchle, eds. "'There's a certain Slant of light': Swedish, Finnish, Chinese, Japanese, Yiddish." THE EMILY DICKINSON JOURNAL 6, 2 (1997): 38-72.

Fuss, Diana. THE SENSE OF AN INTERIOR: FOUR ROOMS AND THE WRITERS THAT SHAPED THEM. New York: Routledge, 2004.




BACK TO LIST

G
Garbowsky, Maryanne M. THE HOUSE WITHOUT THE DOOR: A STUDY OF EMILY DICKIKNSON AND THE ILLNESS OF AGORAPHOBIA. Rutherford, NJ: Associated University Presses, 1989.

Gelpi, Albert J. EMILY DICKINSON: THE MIND OF THE POET. Cambridge: Harvard University Press, 1965.

-----. THE TENTH MUSE: THE PSYCHE OF THE AMERICAN POET (1975). London: Cambridge University Press, 1991.

Gilbert, Sandra M. and Susan Gubar. THE MADWOMAN IN THE ATTIC: THE WO MAN WRITER AND THE NINETEENTH-CENTURY LITERARY IMAGINATION. New Haven: Yale University Press, 1979.

Goodrich, Samuel, "New Year's Address," PARLEY'S MAGAZINE, January, 1838: p. 11-13. in "Nineteenth-Century Children and What They Read," Pat Pflieger, ed. Online. Available: http://www.merrycoz.org/parleys/NY38.HTM. Accessed: 9 Aug. 2003.

Gould, Jean, illus. by Ursula Koering. MISS EMILY. Boston: Houghton Mifflin Co., 1946.

Grabher, Gundrun, Roland Hagenbűchle, and Cristanne Miller, eds. THE EMILY DICKINSON HANDBOOK. Amherst: University of Massachusetts Press, 1998.

Gray, Janet, ed. SHE WIELDS A PEN: AMERICAN WOMEN POETS OF THE NINETEENTH CENTURY. Iowa City: University of Iowa Press, 1997.

Griffith, Clark. THE LONG SHADOW: EMILY DICKINSON'S TRAGIC POETRY. Princeton University Press, 1964.

Guerra, Jonnie. "Dance Responses to Dickinson," AN EMILY DICKINSON ENCYCLOPEDIA. ed. Jane Donahue Eberwein, Westport, CT: Greenwood Press, 1998.

-----. "Dramatic Representations of Dickinson," AN EMILY DICKINSON ENCYCLOPEDIA, ed. Jane Donahue Eberwein, Westport, CT: Greenwood Press, 1998.

-----. "Postage Stamp," AN EMILY DICKINSON ENCYCLOPEDIA, ed. Jane Donahue Eberwein, Westport, CT: Greenwood Press, 1998.

Guthrie, James R. EMILY DICKINSON'S VISION: ILLNESS AND IDENTITY IIN HER POETRY. Gainesville, FL: University Press of Florida, 1998.

-----. "Near-Rhyme and Reason: Style and Personality in Emily Dickinson's Poetry." In Modern Language Association's APPROACHES TO TEACHING EMILY DICKINSON, 1989. 70-77

-----. "Law, Property, and Provincialism in Dickinson's Poems and Letters to Judge Otis Phillips Lord." THE EMILY DICKINSON JOURNAL. 5:1, 1996. 27-44.

-----. "A Revolution in Locality: Astronomical Tropes in Emily Dickinson's Poetry." THE IMDWEST QUARTERLY. 37:4, 1996. 365-82.

-----. "Measuring the Sun: Emily Dickinson's Interpretation of her Optical Illness." ESQ (EMERSON SOCIETY QUARTERLY). 1995: 3. 239-55.

-----. "'Before I Got My Eye Put Out': Dickinson's Illness and Its Effects On Her Poetry." EMILY DICKINSON BULLETIN, June 1982. 16-21.

-----. "The Modest Poet's Tactic of Concealment and Surprise: Bird Symbolism in Emily Dickinson's Poetry." ESQ (EMERSON SOCIETY QUARTERLY). 1981: 4th Quarter. 230-37.

BACK TO LIST

H
Habegger, Alfred. "Evangelicalism and Its Discontents: Hannah Porter versus Emily Dickinson." NEW ENGLAND QUARTERLY 70. Sep 1997: 386-414

-----. "MY WARS ARE LAID AWAY IN BOOKS": THE LIFE OF EMILY DICKINSON. New York: Random House, 2001, [revised paperback, 2002].

Hallen, Cynthia. "Brave Columbus, Brave Columbia: Emily Dickinson's Search for Land." EMILY DICKINSON JOURNAL 5:2 (1996) 169-75

-----. "Cognitive Circuits: The Circumference of Dickinson's Lexicon." EMILY DICKINSON JOURNAL Special Issue on Translating Dickinson 6:2 (1997) 76-83

-----. "Lexical Music in Emily Dickinson's Poems." DICKINSON STUDIES (first half 1992): 24-39

-----. "Student Lexicographers: Pioneers for the Emily Dickinson Lexicon." LINGUISTICS AT WORK: A READER OF APPLICATIONS. Ed. Dallin D. Oaks. Dallas: Harcourt, 1998, 536-552

-----. "Translation and the Emily Dickinson Lexicon." With Laura M. Harvey. EMILY DICKINSON JOURNAL 2:2 (1993): 130-146

Hampson, Alfred Leete. EMILY DICKINSON: A BIBLIOGRAPHY. Northampton: The Hampshire Bookshop, 1930.

Hart, Ellen Louise with Martha Nell Smith, eds. OPEN ME CAREFULLY: EMILY DICKINSON'S INTIMATE LETTERS TO SUSAN HUNTINGTON GILBERT. Ashfield, MA: Paris Press, 1998.

Hecht, Jennifer. DOUBT: THE GREAT DOUBTERS AND THEIR LEGACY OF INNOVATION FROM SOCRATES AND JESUS TO THOMAS JEFFERSON AND EMILY DICKINSON. San Francisco: HarperSanFrancisco, 2004.

Heginbotham, Eleanor Elson. "'Paradise Fictitious': Dickinson's Milton." EMILY DICKINSON JOURNAL. Spring, 1998.

-----. READING THE FASCICLES OF EMILY DICKINSON: DWELLING IN POSSIBILITIES. Columbus, OH: Ohio State University Press, 2003.

Higgins, David. PORTRAIT OF EMILY DICKINSON: THE POET AND HER PROSE. New Brunswick, NJ: Rutgers University Press, 1967.

Higginson, Thomas Wentworth. "An Open Portfolio." CHRISTIAN UNION 42 (25 Sept. 1890): 392-93.

Hirschorn, Norbert and Polly Longsworth. "'Medicine Posthumous': A New Look at Emily Dickinson's Medical Conditions." NEW ENGLAND QUARTERLY, 69 (1996): 299-316.

Hitchcock, Edward. LIFE OF MARY LYON. Northampton: Hopkins, Bridgman, 1852.

Homans, Margaret. WOMEN WRITERS AND POETIC IDENTITY: DOROTHY WORDSWORTH, EMILY BRONTE, AND EMILY DICKINSON. Princeton, N.J.: Princeton UP, 1980.

Howe, Susan. THE BIRTH-MARK: UNSETTLING THE WILDERNESS IN AMERICAN LITERARY HISTORY. Hanover: University Press of New England, 1993.

-----. MY EMILY DICKINSON. Berkeley, CA: North Atlantic Books, 1985.

Hunt, Helen. FAITH AND FEMINISM: A HOLY ALLIANCE. New York: Simon & Schuster, 2004. [Discussion of 5 women: St. Teresa of Άvila, Lucretia Mott, Sojourner Truth, Emily Dickinson, and Dorothy Day].

BACK TO LIST

I
No "I" entries.
BACK TO LIST

J
Jenkins, MacGregor. EMILY DICKINSON: FRIEND AND NEIGHBOR. Boston: Little, Brown, 1930.

Johnson, Greg. EMILY DICKINSON: PERCEPTION AND THE POET'S QUEST. University, AL: University of Alabama Press, 1985.

Johnson, Tamara, ed. READINGS ON EMILY DICKINSON. Greenhaven Literary Companion to American Authors. San Diego, CA: Greenhaven Press, 1997.

Johnson, Thomas H. EMILY DICKINSON: AN INTERPRETIVE BIOGRAPHY. Cambridge: Harvard University Press, Belknap Press, 1955.

Johnston, Nancy, "POEMS BY EMILY DICKINSON (1890)" in AN EMILY DICKINSON ENCYCLOPEDIA ed. Jane Donahue Eberwein, Westport, CT: Greenwood Press, 1998.

Juhasz, Suzanne. ed. FEMINIST CRITICS READ EMILY DICKINSON. Bloomington: Indiana University Press, 1983.

-----. THE UNDISCOVERED CONTINENT: EMILY DICKINSON AND THE SPACE OF THE MIND. Bloomington: Indiana University Press, 1983.

Juhasz, Suzanne, Cristanne Miller, and Martha Nell Smith. COMIC POWER IN EMILY DICKINSON. Austin: University of Texas Press, 1993.


BACK TO LIST

K
Keller, Karl. THE ONLY KANGAROO AMONG THE BEAUTY: EMILY DICKINSON AND AMERICA. Baltimore: Johns Hopkins University Press, 1979.

Kher, Inder Nath. THE LANDSCAPE OF ABSENCE: EMILY DICKINSON'S POETRY. New Haven, CT: Yale University Press, 1974.

Kimpel, Ben. EMILY DICKINSON AS PHILOSOPHER. New York: E. Mellen Press, 1981.

Kirk, Connie Ann. "'Distance does not haunt me so –': Teaching Dickinson's Poetry via Distance Education." EMILY DICKINSON BULLETIN, Vol. 14, No. 1, May/June, 2002.

-----. "'I will sone be home': Margaret Maher, Emily Dickinson, and an Irish Trunk Full of Poems." In David Valone and Christine Kinealy, ed. IRELAND'S GREAT HUNGER: SILENCE, MEMORY,AND C OMMEMORATION, Lanham, MD: University Press of America, 2002.

-----. EMILY DICKINSON: A BIOGRAPHY. Westport, CT: Greenwood Press, 2004.

-----. EMILY DICKINSON ONLINE. Website. Access: https://emilydickinsononline.org

-----. "The Life and Poetry of Emily Dickinson," Online course lecture material. Barnes & Noble University 4-week continuing education course. Online. http://www.bn.com. 2002-2005.

-----. "'Open the Door, they are waiting for me': An Introduction to the Evergreens Nursery." EMILY DICKINSON BULLETIN, Vol. 16, no 1 (2004 May-June): p. 7-8 .

-----. "'To stay behind - with just the Toys': Gilbert Dickinson's 'Living' Treasures in The Evergreens," EMLIY DICKINSON BULLETIN, Vol. 15, No. 2, November/December, 2003, p. 12-13, 34-35.

-----. "Why Do Children Like Emily Dickinson?" EMILY DICKINSON BULLETIN, Vol. 12, No. 1, May/June, 2000, p. 14-15.

Kirkby, Joan. "'Big My Secret/ But It's Bandaged': Emily Dickinson and Jane Campion's The Piano". EMILY DICKINSON BULLETIN 3 (1994): 4-6

-----. EMILY DICKINSON: WOMEN WRITERS SERIES. London: Macmillan, 1991.

-----. "Reading Dickinson Reading." THE EMILY DICKINSON JOURNAL 5 (1996): 47-255

Knapp, Bettina L. EMILY DICKINSON. New York: Continuum, 1989.

-----. EMILY DICKINSON' USE OF ANGLO-AMERICAN LEGAL CONCEPTS AND VOCABULARY IN HER POETRY. Lewiston, NY: Edwin Mellen Press, 1997.


BACK TO LIST

L
Lambert, Robert Graham, Jr. A CRITICAL STUDY OF EMILY DICKINSON'S LETTERS: THE PROSE OF A POET. Lewiston, NY: Mellen University Press, 1966, 1997.

Lease, Benjamin. EMILY DICKINSON'S READINGS OF MEN AND BOOKS: SACRED SOUNDINGS. New York: St. Martin's Press, 1990.

Lebo, Lori. "Autobiographic Self-Construction in the Letters of Emily Dickinson," Diss., University of Wollongong, Australia, 1999.

Leder, Sharon and Andrea Abbott. THE LANGUAGE OF EXCLUSION: THE POETRY OF EMILY DICKINSON AND CHRISTINA AROSSETTI. Westport, CT: Greenwood Press, 1987.

Leyda, Jay. Ed. THE YEARS AND HOURS OF EMILY DICKINSON. 2 vols. New Haven, CT: Yale University Press, 1960.

Liebling, Jerome, Christopher Benfy, Polly Longsworth, and Barton Levy St. Armand. THE DICKINSONS OF AMHERST. Lebanon, NH: University Press of New England, 2001.

Lilliedahl, Ann Martha. EMILY DICKINSON IN EUROPE: HER LITERARY REPUTATION IN SELECTED COUNTRIES. Washington, DC: University of America, 1981.

Lindberg-Seyersted, Brita. EMILY DICKINSON'S PUNCTUATION. Oslo: American Institute, University of Oslo Press, 1976.

-----. THE VOICE OF THE POET: ASPECTS OF STYLE IIN THE POETRY OF EMILY DICKINSON. Cambridge: Harvard University Press, 1968.

Loeffelholz, Mary. DICKINSON AND THE BOUNDARIES OF FEMINIST THEORY. Urbana: University of Illinois Press, 1991.

Lombardo, Daniel. "Film Reviews: "Loaded Gun and Words Like Blades," EMILY DICKINSON BULLETIN, Vol. 15, No. 1, May/June, 2003: p. 17-18, 31.

-----. HEDGE AWAY: THE OTHER SIDE OF THE EMILY DICKINSON'S AMHERST. DAILY HAMPSHIRE GAZETTE, 1997.

Longsworth, Polly. AUSTIN AND MABEL: THE AMHERST AFFAIR AND LOVE LETTERS OF AUSTIN DICKINSON AND MABEL LOOMIS TODD. New York: Farrar, Straus & Giroux, 1983.

-----. EMILY DICKINSON: HER LETTER TO THE WORLD. New York: Thomas Y. Crowell Co., 1965.

-----. "The 'Latitude of Home': Life in the Homestead and the Evergreens," in THE DICKINSONS OF AMHERST, photographs by Jerome Liebling, Hanover, NH: University Press of New England, 2001.

-----. THE WORLD OF EMILY DICKINSON. New York: Norton, 1990.

Loving, Jerome. EMILY DICKINSON: THE POET ON THE SECOND STORY. Cambridge: Cambridge University Press, 1986.

Lowenberg, Carl. EMILY DICKINSON'S TEXTBOOKS. Lafayette, CA: 1986.

-----. MUSICIANS WRESTLE EVERYWHERE: EMILY DICKINSON AND MUSIC. Berkeley, CA: Fallen Leaf, 1992.

Lubbers, Klaus. EMILY DICKINSON: THE CRITICAL REVOLUTION. Ann Arbor, MI: University of Michigan Press, 1968.

Lucas, Dolores Dyer. EMILY DICKINSON AND RIDDLE. DeKalb, IL: Northern Illinois University Press, 1968.

Lundin, Roger. EMILY DICKINSON AND THE ART OF BELIEF. Grand Rapids, MI: William b. Eerdmans Publishing Company, 1998.

Lundin, Roger. EMILY DICKINSON AND THE ART OF BELIEF, revised 2nd edition. Grand Rapids, MI: William B. Eerdmans Publishing Company, 2004.

BACK TO LIST

M
MacKenzie, Cindy and Barbara Dana, ed. WIDER THAN THE SKY: ESSAYS AND MEDITATIONS ON THE HEALING POWER OF EMILY DICKINSON. Kent, OH: Kent University Press, 2007.

MacKenzie, Cynthia, A CONCORDANCE TO THE LETTERS OF EMILY DICKINSON. Boulder: Colorado University Press, 2000.

-----. "'Heavenly Hurt': Dickinson's Wounded Text." EMILY DICKINSON JOURNAL, Vol. IX, No.2 (2000): 55-63

-----. "A Portrait of S.P. Rosenbaum, Editor of A CONCORDANCE TO THE POEMS OF EMILY DICKINSON." EMILY DICKINSON BULLETIN, Vol. 14, No.1 (May/June 2002).

Martin, Wendy. AN AMERICAN TRIPTYCH: ANNE BRADSTREET, EMILY DICKINISON, ADRIENNE RICH. Chapel Hill: University of North Carolina Press, 1984.

----- ed. THE CAMBRIDGE COMPANION TO EMILY DICKINSON. London: Cambridge UP, 2002.

Marvel Ik [pseud. Donald Grant Mitchell]. REVERIES OF A BACHELOR. New York: Scribner's, 1850.

McCabe, Susan. "Influence on Poets," AN EMILY DICKINSON ENCYLCOPEDIA, ed. Jane Donahue Eberwein, Westport, CT: Greenwood Press, 1998.

McDowell, Marta. EMILY DICKINSON'S GARDENS: DISCOVERING THE FLOWERS THAT INSPIRED HER POETRY. New York: McGraw-Hill, 2004.

McIntosh, James. NIMBLE BELIEVING: DICKINSON AND THE UNKNOWN. Ann Arbor, MI: University of Michigan Press, 2000.

McNaughton, Ruth F. THE IMAGERY OF EMILY DICKINSON. Folcroft, PA: Folcroft Library Editions, 1974.

McNeil, Helen. EMILY DICKINSON. London: Virago, 1986.

Messmer, Marietta. "Emily Dickinson's Exploration of the Limits of Logic: The Example of Her Puritan Heritage. THE EMILY DICKINSON JOURNAL 5.2 (1996): 127-133.

-----. A VICE FOR VOICES: READING EMILY DICKINSON'S CORRESPONDENCES. Amherst, MA: University of Massachusetts Press, 2001.

Miller, Cristanne. "Controversy in the Study of Emily Dickinson." LITERARY IMAGINATION: THE REVIEW OF THE ASSOCIATION OF LITERARY SCHOLARS AND CRITICS 6, no. 1 (2004 winter): p. 39-50.

-----. EMILY DICKINSON: A POET'S GRAMMAR. Cambridge, MA: Harvard University Press, 1987.

Miller, Ruth. THE POETRY OF EMILY DICKINSON. Middletown, CT: Wesleyan University Press, 1968.

Mitchell, Domhnall. EMILY DICKINSON: MONARCH OF PERCEPTION. Amherst, MA: University of Massachusetts Press, 2000.

Morris, Tim. "Dickinson's Arctic." THE EMILY DICKINSON JOURNAL 6.1 (Winter 1997): 89-108

Morse, Jonathan. "J.G. Holland's Moral Politics." JOURNAL OF POPULAR CULTURE 12 (1978-79): 127-37

-----. "Memory, Desire, and the Need for Biography: The Case of Emily Dickinson." GEORGIA REVIEW 35 (1981): 259-72

-----. "Some of the Things We Mean When We Say 'New England.'" EMILY DICKINSON JOURNAL 5.2 (1996): 209-14

Mossberg, Barbara Antonina Clarke. EMILY DICKINSON: WHEN A WRITER IS A DAUGHTER. Bloomington, IN: Indiana University Press, 1982.

Mudge, Jean McClure. EMILY DICKINSON AND THE IMAGE OF HOME. Amherst, MA: University of Massachusetts Press, 1975.

-----. "Emily Dickinson and 'Sister Sue,'" PRAIRIE SCHOONER, Spring 1978

Murray, Aífe. "Miss Margaret's Emily Dickinson," SIGNS: A JOURNAL OF WOMEN IN CULTURE AND SOCIETY, 24:3 (Spring 1999) 697-732.

Murray, Lindley. AN ENGLISH GRAMMAR: COMPREHENDING THE PRINCIPLES AND RULES OF THE LANGUAGE, 1823.



BACK TO LIST

N
No "N" entries.
BACK TO LIST

O
Oberhaus, Dorothy Huff. EMILY DICKINSON'S FASCICLES: METHOD AND MEANING. University Park, PA: Pennsylvania State University Press, 1995.

Oliver, Virginia H. APOCALYPSE OF GREECE: A STUDY OF EMILY DICKINSON'S ESCHATOLOGY. New York: Peter Lang, 1989.

Olney, James. THE LANGUAGES OF POETRY: WALT WHITMAN, EMILY DICKINSON, GERARD MANLEY HOPKINS. Athens, GA: University of Georgia Press, 1993.

Orzeck, Martin and Robert Weisbuch, eds. DICKINSON AND AUDIENCE. Ann Arbor, MI: University of Michigan Press, 1996.

Ottlinger, Claudia. THE DEATH-MOTIF IN THE POETRY OF EMILY DICKINSON AND CHRISTINA ROSSETTI. New York: Peter Lang, 1996.


BACK TO LIST

P
Patterson, Rebecca. EMILY DICKINSON'S IMAGERY. Ed. Posthumously by Margaret H. Freeman. Amherst, MA: University of Massachusetts Press, 1979.

-----. THE RIDDLE OF EMILY DICKINSON. Boston: Houghton Mifflin, 1951; New York: Cooper Square Publishers, 1973.

Petrino, Elizabeth. EMILY DICKINSON AND HER CONTEMPORARIES: WOMEN'S VERSE IN AMERICA, 1820—1885. Hanover, NH: University Press of New England, 1998.

Phillips, Elizabeth. EMILY DICKINSON: PERSONAE AND PERFORMANCE. University Park, PA: Pennsylvania State University Press, 1988 & 1997.

Phillips, Kate. HELEN HUNT JACKSON: A LITERARY LIFE. Berkeley, CA: University of California Press, 2003.

Pollack, Vivian R., ed. A HISTORICAL GUIDE TO EMILY DICKINSON. Oxford: Oxford University Press, 2004.

-----. A POET'S PARENTS: THE COURTSHIP LETTERS OF EMILY NORCROSS AND EDWARD DICKINSON. Chapel Hill, NC: University of North Carolina Press, 1988.

-----. DICKINSON: THE ANXIETY OF GENDER. Ithaca: Cornell University Press, 1984.

Pollitt, Josephine. EMILY DICKINSON: THE HUMAN BACKGROUND OF HER POETRY. New York: Harper, 1930.

Porter, David T. THE ART OF EMILY DICKINSON'S EARLY POETRY. Cambridge, MA: Harvard University Press, 1966.

-----. DICKINSON: THE MODERN IDIOM. Cambridge, MA: Harvard University Press, 1981.

Power, Mary James, Sister. IN THE NME OF THE BEE: THE SIGNIFICANCE OF EMILY DICKINSON. New York: Sheed & Ward, 1943.

Pritchard, William H. TALKING BACK TO EMILY DICKINSON AND OTHER ESSAYS. Amherst, MA: University Press, 1998.

BACK TO LIST

Q
No "Q" entries.
BACK TO LIST

R
Reynolds, David S. BENEATH THE AMERICAN RENAISSANCE: THE SUBVERSIVE IMAGINATION IN THE AGE OF EMERSON AND MELVILLE. New York: Knopf, 1988.

Reynolds, Virginia Dickinson. "Clad in Victory," in GUESTS IN EDEN. New York: Zeta Chapter, Phi Delta Gamma, 1946.

Rich, Adrienne. "Vesuvius at Home: The Power of Emily Dickinson." ON LIES, SECRETS, AND SILENCE: SELECTED PROSE 1966-1978. 1976. New York: Norton, 1979. 157-83.

Robinson, John. EMILY DICKINSON: LOOKING TO CANAAN. Boston: Faber and Faber, 1986.

Rosenbaum, Stanford. P., ed. A CONCORDANCE TO THE POEMS OF EMILY DICKINSON. Ithaca, NY: Cornell University Press, 1964.

Rupp, Richard H. CRITICS ON EMILY DICKINSON. Miami, FL: University of Miami Press, 1972.



BACK TO LIST

S
St. Armand, Barton Levi. EMILY DICKINSON AND HER CULTURE: THE SOUL'S SOCIETY. Cambridge: Cambridge University Press, 1984.

-----. "Keeper of the Keys: Mary Hampson, the Evergreens, and the Art Within, " in THE DICKINSONS OF AMHERST, photographs by Jerome Liebling, Hanover, NH: University Press of New England, 2001.

Salska, Agnieszka. WALT WHITMAN AND EMILY DICKINSON: POETRY OF THE CENTRAL CONSCIOUSNESS. Philadelphia: University of Pennsylvania Press, 1985.

Sewall, Richard Benson. Ed. EMILY DICKINSON, A COLLECTION OF CRITICAL ESSAYS. Englewood Cliffs, NJ: Prentice-Hall, 1963.

-----. THE LIFE OF EMILY DICKINSON. 2 vols. New York: Farrar, Straus & Giroux, 1974.

-----. THE LYMAN LETTERS: NEW LIGHT ON EMILY DICKINSON AND HER FAMILY. Amherst, MA: University of Massachusetts Press, 1965.

Smith, Martha Nell. "Emily Dickinson Writing a Poem," DICKINSON ELECTRONIC ARCHIVES. Online. Available: http://www.iath.virginia.edu/dickinson/safe/introduction.html. Accessed: 11 Aug. 2003

-----. with Ellen Louise Hart, eds. OPEN ME CAREFULLY: EMILY DICKINSON'S INTIMATE LETTERS TO SUSAN HUNTINGTON GILBERT. Ashfield, MA: Paris Press, 1998.

-----. ROWING IN EDEN: REREADING EMILY DICKINSON. Austin, TX: University of Texas Press, 1992.

-----. "Susan Huntington Gilbert Dickinson,1830-1913: A Brief Account of Her Life." Online. DICKINSON ELECTRONIC ARCHIVE. Available: http://www.iath.virginia.edu/dickinson/susan/bio.html. Accessed 8/8/03.

Smith, Martha Nell, with Suzanne Juhasz and Cristanne Miller. COMIC POWER IN EMILY DICKINSON. Austin, TX: University of Texas Press, 1993.

Smith, Robert McClure. THE SEDUCTIONS OF EMILY DICKINSON. Tuscaloosa, AL: University of Alabama Press, 1996.

Sewell, Maryann, "Musical Settings," AN EMILY DICKINSON ENCYCLOPEDIA, ed. Jane Donahue Eberwein, Westport, CT: Greenwood Press, 1998.

Sherwood, William. CIRCUMFERENCE AND CIRCUMSTANCE: STAGES IN THE MIND AND ART OF EMILY DICKINSON. New York: Columbia University Press, 1968.

Shurr, William H. THE MARRIAGE OF EMILY DICKINSON: A STUDY OF THE FASCICLES. Lexington, KY: University Press of Kentucky, 1983.

Sielke, Sabine, ed. FASHIONING THE FEMALE SUBJECT: THE INTERTETUAL NETWORKING OF DICKINSON, MOORE, AND RICH. Ann Arbor, MI: University of Michigan Press, 1997.

Small, Judy Jo. POSITIVE AS SOUND: EMILY DICKINSON'S RHYME. Athens, GA: University of Georgia Press, 1990.

Smith, Robert McClure. THE SEDUCTIONS OF EMILY DICKINSON. Tuscaloosa, AL: University of Alabama Press, 1996.

Sohn, Youngmi. THE CHALLENGE OF TEMPORAILTY: THE TIME POEMS OF EMILY DICKINSON. New York: Peter Lang, 2000.

Stocks, Kenneth. EMILY DICKINSON AND THE MODERN CONSCIOUSNESS: A POET OF OUR TIME. New York: St. Martin's Press, 1988.

Stonum, Gary Lee. THE DICKINSON SUBLIME. Madison, WI: University of Wisconsin Press, 1990.

Strickland, Georgiana. "Emily Dickinson's Colorado," EMILY DICKINSON JOUJRNAL, Vol. VIII, No. 1, 1999: 1-23.

-----. "Emily Dickinson's Philadelphia," Lecture, Emily Dickinson International Society Annual Meeting, June 27-8, 2003.

-----. Liner notes. EMILY DICKINSON IN SONG: DWELL IN POSSIBILITY. Peterborough, NH: Gasparo Records, 2004.

BACK TO LIST

T
Taggard, Genevieve. THE LIFE AND MIND OF EMILY DICKINSON. New York: A. A. Knopf, 1930.

Thackrey, Donald E. EMILY DICKINSON'S APPROACH TO POETRY. Lincoln: University of Nebraska, 1954.

Thota, Anand Rao. Foreword by Satyanarain Singh. EMILY DICKINSON: THE METAPHYSICAL TRADITION. Atlantic Highlands, NJ: Humanities, 1982.

Tripp, Raymond P., Jr. DUTY, BODY, AND WORLD IN THE WORKS OF EMILY DICKINSON: REORGANIZING THE ESTIMATE. Lewiston, NY: Edwin Mellon Press, 2000.

-----. THE MYSTERIOUS KINGDOM OF EMILY DICKINSON'S POETRY. Denver, CO: Society for New Language Study, 1988.

BACK TO LIST

U
Uno, Hiroko. EMILY DICKINSON VISITS BOSTON. Kyoto, Japan: Yamaguchi Publishing House, 1990.

Untermeyer, Louis, ed. EMILY DICKINSON, 1830—1886. New York: Simon & Schuster, 1927.

BACK TO LIST

V
No "V" entries.
BACK TO LIST

W
Walker, Cheryl. THE NIGHTINGALE'S BURDEN: WOMEN POETS AND AMERICAN CULTURE BEFORE 1900. Bloomington, IN: Indiana University Press, 1982.

Walsh, John Evangelist. THIS BRIEF TRAGEDY: UNRAVELINIG THE TODD-DICKINSON AFFAIR. New York: C. Weidenfeld, 1991.

-----. THE HIDDEN LIFE OF EMILY DICKINSON. New York: Simon and Schuster, 1971.

Ward, Bruce. THE GIFT OF SCREWS: THE POETIC STRATEGIES OF EMILY DICKINSON. Troy, NY: Whitson Publishing, 1994.

Ward, Theodora. THE CAPSULE OF THE MIND: CHAPTERS IN THE MIND OF EMILY DICKINSON. Cambridge, MA: The Belknap Press of Harvard University Press, 1961.

Wardrop, Daneen. EMILY DICKINSON'S GOTHIC: GOBLIN WITH A GAUGE. Iowa City: University of Iowa Press, 1996.

Weisbuch, Robert. EMILY DICKINSON'S POETRY. Chicago: The University of Chicago Press, 1975.

Wells, Henry Willis. INTRODUCTION TO EMILY DICKINSON. Chicago: Hendricks House, 1947.

Werner, Marta. EMILY DICKINSON'S OPEN FOLIOS: SCENES OF READING, SURFACES OF WRITING. Ann Arbor: University of Michigan Press, 1995.

Whicher, George Frisbie. THIS WAS A POET: A CRITICAL BIOGRAPHY OF EMILY DICKINSON. New York: Charles Scribner's Sons, 1938.

Wilson, Raymond Jackson. FIGURES OF SPEECH: AMERICAN WRITERS AND THE LITERARY MARKETPLACE: FROM BENJAMIN FRANKLIN TO EMILY DICKINSON. New York: Knopf, 1989.

Wolff, Cynthia Griffin. EMILY DICKINSON. Reading, MA: Addison-Wesley, 1988.

Wolosky, Shira. EMILY DICKINSON: A VOICE OF WAR. New Haven, CT: Yale University Press, 1984.

Wylder, Edith. THE LAST FACE: EMILY DICKINSON'S MANUSCRIPTS. Albuquerque, NM: University of New Mexico Press, 1971.

BACK TO LIST

X-Y-Z
Zapedowska, Magdalena. "Spatial Relationships in Emily Dickinson's Poetry." STUDIA ANGLICA POSNANIENSA 34 (1999): 381-401

-----. "The Transparent and the Opaque: Reading Nature by Emerson, Mickiewicz, and Dickinson," AMERICAN STUDIES 18 (1999): 59-65

BACK TO LIST